Imagen

​

​

Russian Centre Library
The Russian Centre Library holds about 1.000 items. Everyone interested may look up and read the publications in our collection during the office hours from Monday to Friday from 9:30 a.m. to 2:30 p.m. (Paz Street 18 3rd floor Room 1). We are also working at the Russian Centre to offer an online catalogue and the book loan service.
Library of the University of Granada
UGR Library is also offering books in Russian or those related to the Russian language and culture. Most of these books can be found at the Libraries of the Faculty of Philosophy and Letters and the Faculty of Translation and Interpreting. To be able to borrow books you will need a library card. The same card is valid in all UGR Library units.
Russian Digital Library IPR Books
The IPR Books Russian Digital Library is available for any Russian Centre visitor. To make use of this Library please ask the Russian Centre coordinator for details.
The IPR Books stores about 100.000 items. There are 40.00 Copyright © books and journals in the library catalogue. Recent publications en Russian on Science and Technology, Education, History, General Culture, Fiction, among others, are available in full-text free access through the IPR Books service for the Russian Centre visitors.
Libros RKI / RLE​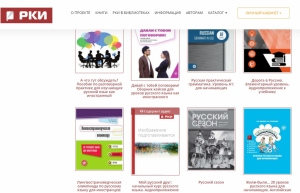 Dentro de la oferta de la plataforma IPR Books contamos con la colección de libros de texto completo relacionados con el estudio del ruso como lengua extranjera.
En el enlace que ponemos abajoб encontraréis libros de las principales editoriales rusas especializadas en la edición de materiales RKI como Zlatoust o Russki yazyk. Para obtener acceso a los libros, solicite información a la coordinadora del Centro Ruso.
CyberLeninka
CyberLeninka (Russian: КиберЛенинка) is a Russian scientific electronic library working according to the model of open science. It has a vast collection of written scientific works available via free licences.
Per Webometrics, it is accounted to be in top 5 open archives in the world. Per Russian rating measurers LiRu and Rambler, it is considered to be the largest scientific and educational online library with legal content across the Internet in Russia.
The name is an allusion to V. I. Lenin State Library of the USSR, now Russian State Library, the biggest and main public library in USSR and Russia situated in a monumental building next to Moscow Kremlin. The logo features stylized Lenin portrait.
In June 2019 it was announced that CyberLeninka will become the facility for making available to public for free the journals of Moscow State University, Russia's main and oldest university. (Información de Wikipedia)
Fundamental Digital Library of Russian Literature and Folklore (FEB-web)
The Fundamental Digital Library of Russian Literature and Folklore (FEB-web) is a full-text digital resource. FEB-web accumulates information in text, audio, visual, and other forms on 11th-20th-century Russian literature, Russian folklore, and the history of Russian literary scholarship and folklore studies.
FEB-web is, first and foremost, a repository of primary, secondary, and reference texts. It is also an effective instrument for analyzing these texts. Presenting texts in digital form via a state-of-the-art user interface makes it possible for professional scholars and other users to work with texts in a fundamentally new way.
Our Library was given the name "Fundamental" because it is designed to provide an exhaustive and comprehensive body of materials on Russian literature and folklore. Naturally, this cannot be achieved overnight: FEB-web is a dynamic system that develops in concert with the profession it serves.
ImWerden
This Library offers open-source digital PDF, MP3, and AVI files of works by Russian authors including first-published and rare edition books. There are also audio recordings of Russian authors (e.g., Pasternak, Mayakovsky, Esenin, Akhmatova, Blok) reading their own works, and full-text journals and magazines published in the Soviet Union and Russia in the XX and XXI Centuries.